Murano blown glass suspension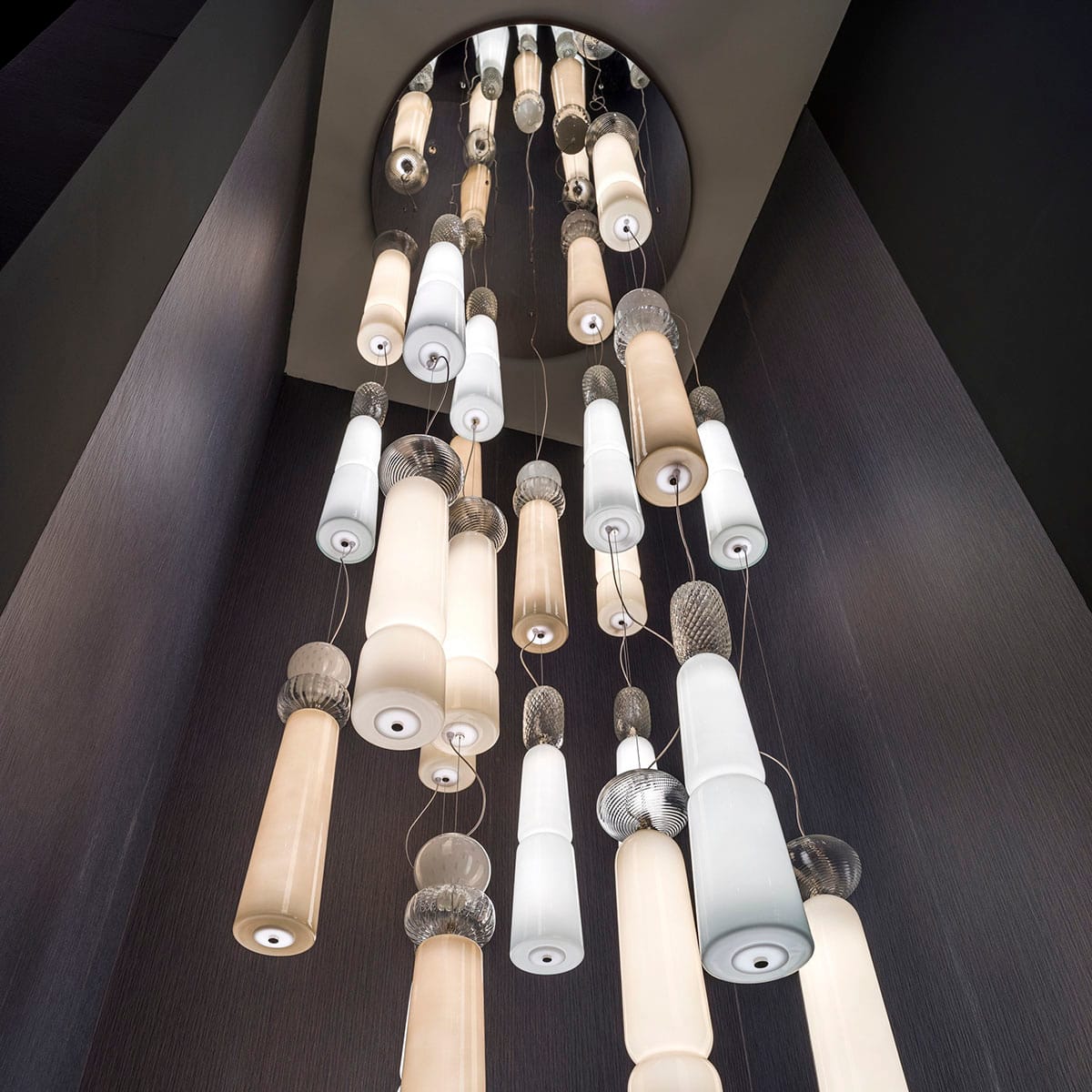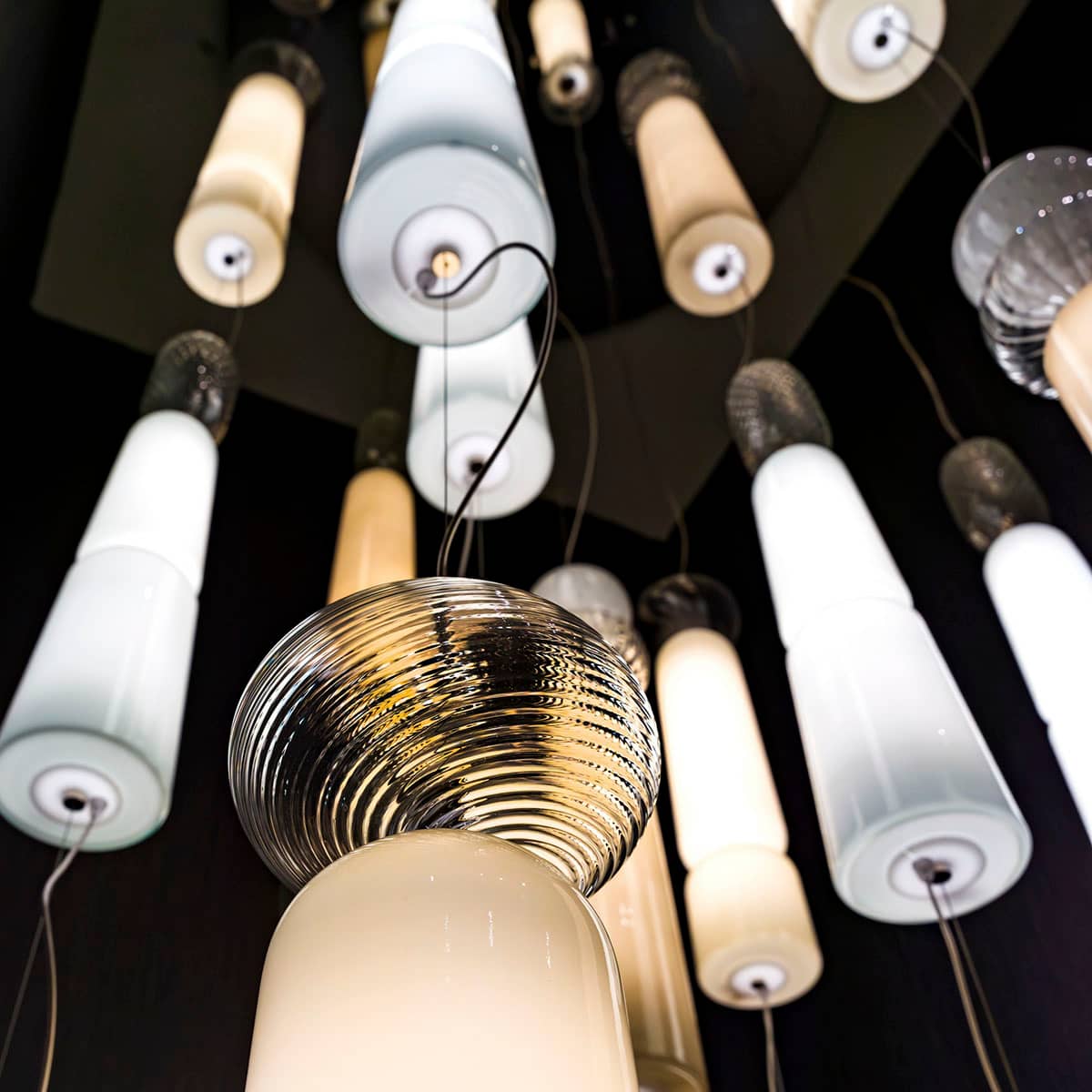 In Greek mythology, Charis (Χάρις), Grace and in the plural Charites (Χάριτες), Graces is the name of three goddesses: Aglaia, signifying brightness and splendour, Euphrosyne, representing joy and gladness, and Thalia, symbolising fullness, prosperity and flowering. They are bearers of beauty and harmony, representing the beautiful and the good in the cosmic order.
The earliest works depicting the Graces date back to Hellenistic Greek art and are one of the most recurrent themes in the history of art. An unchanged subject as iconography, despite the different styles, despite the centuries, that has survived to the present day.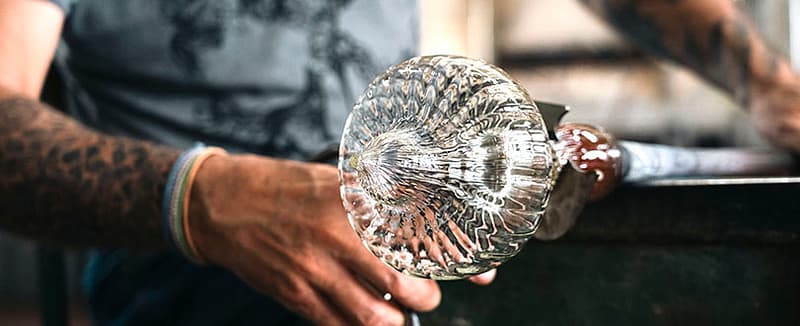 Light and desaturated tones so as not to excessively alter the colour of the light
I'm originally from Turin, where I got a degree in architecture at the Polytechnic in 2003. From the very beginning I started working in architectural studios, focusing on interior design and custom-made furniture, which strengthened my interested in product and furniture design.
In 2007 I moved to Veneto, where I found myself in deep contact with the tradition of blown glass: here is where my journey in decorative lighting begins. I've been collaborating with different companies in the past 15 years, designing and developing new lighting products, new whole collections and custom-made installations. I work in direct contact with the furnace, where I study and learn each time, following the whole production path leading to the final product. This is a truly opportunity to learn, which develops into pure passion.
My knowledge is a mix of very strict technical skills, during the engineering process and the study of the lighting effect, combined with a creative vision that leads to the final realization of the product. I thoroughly oversee each lighting fixture, designing every detail.
In the ideas of Designers: an insight
How did you think about this design in the first place?
In the initial concept, the intention was to create a suspended element that could give life to a multitude of installations. Freely compose luminous glasses and connect them electrically to allow great design freedom.
I wanted the suspended volumes, put together, to generate a sort of luminous sculpture, like a wave, but also to offer the possibility of conceiving elongated installations to give light and importance to very high spaces or to be distributed in a "flat" way to furnish environments with more contained heights.
How was the name conceived and what does it mean?
The glasses that make up the product recall female figures, an aspect that I wanted to highlight through the name. In fact, the Greek term Charis, which means Grace, well recalls the image of femininity and delicacy. Moreover, I liked the idea that the same noun, declined in the plural, Charites, referred to the three goddesses bringers of joy and harmony who symbolize the beautiful and the good of the cosmic order, almost as if to identify the three luminous elements in these female deities .
How did your idea evolved, once made into glass?
Having defined the initial concept, I thought that to make these compositions more lively we could play with three different elements and that these could be characterized by an alternation of opaque, smooth, flat-coloured glass with transparent glass, worked according to the classic finishes of Venetian glass tradition: "balotton", striped, twisted striped, and submerged "balotton".
Once the glasses had been developed, in their simple, almost elementary volumes, it was seen how they already defined a lamp in itself, as a single suspension or possibly with more articulated combinations, in line or radial to give shape to even more commercial products.
With Multiforme it was interesting to study the colours to understand together the best combinations and create variations that could adapt well to multiple situations.
I preferred to use delicate nuances rather than strong tones, which once lit did not excessively alter the colour of the light.
The search for the light source required a lot of attention, it was necessary to calibrate the power of the LEDs using a dimmer to offer excellent functionality to the final product, furthermore the seat that would house the electrical components and allow the connection of the glass in series had to be defined.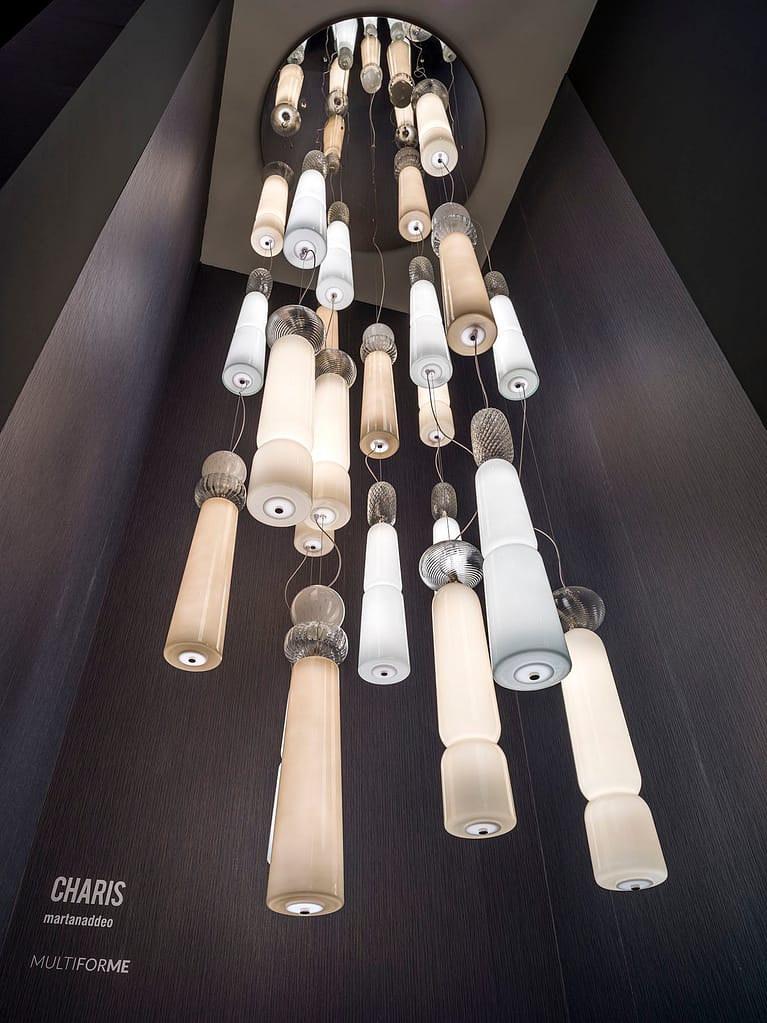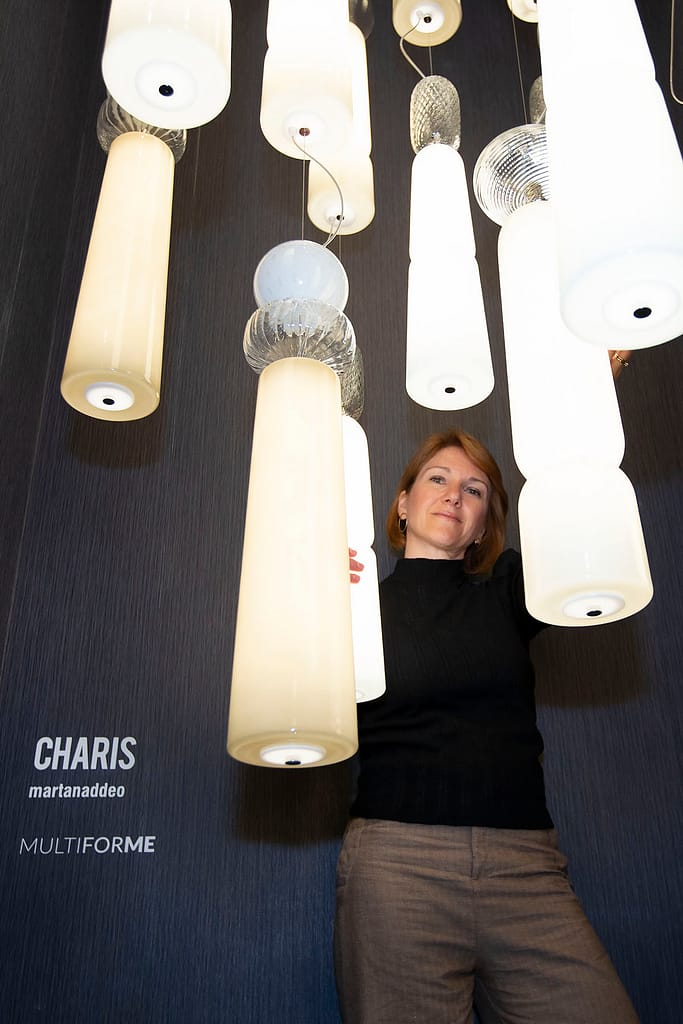 Are you satisfied with the final result? How much is it detached from the theoretical project and how interesting was the production process?
I am very happy with the final result, very faithful to my initial idea.
What is light for you and how do you like to manage it in your projects?
Light is an intangible material and I like to think that I can shape it through glass.
When I design a lamp, even if it is a decorative object, I always want the lighting aspect to be studied and modulated in the best possible way, precisely because comfort and well-being are generated above all by a good quality of light.
If you had to think of a soundtrack that represents opera, which song would you choose? Or what artist?
Yann Tiersen – La valse d'Amelie
What did you like in particular about the cooperation with Multiforme?
Multiforme is a company that trusted me, I immediately felt at ease.
The meetings have always been constructive, an excellent opportunity for discussion especially in the final stages of prototyping in which it was necessary to have clear ideas and find the best solutions quickly to define the project in every detail.
If you could place your product anywhere in the world which one would you pick?
Precisely because this product is so flexible, I imagine that it can adapt to many spaces, both from a compositional point of view and for its pure shapes and delicate colours.
Is there a project you haven't done yet and you dream of realizing in the future?
Yes, I have several products that I would like to create, but in particular there is a chandelier that I keep in my drawer, in which I strongly believe, but perhaps a little too daring, which is why I would like to wait for the right moment to propose it.
Which people of the 20th century have influenced your vision of the world? Name three of them.
There are so many, but if I had to, I'd pick the following:
David Bowie – because he is an all-round artist, not only a talented musician, but an actor, fashion designer, painter, a visionary capable of expressing himself with an unbridled imagination.
Daisaku Ikeda – a master of life who taught me to fly high.
Elsa Schiapparelli-great creative who I admire for her research spirit, a revolutionary compared to her time.
INFORMATION AND CUSTOMISATION
We specialise in custom and bespoke lighting solutions and have certifications for international projects.
Choose the colour and workmanship of the glass, the fabrics, the metal finishes, the dimensions of your project. Each product is fully customisable.
Want more information? Looking for a particular customisation? Fill in the form!