Interview with the designer
The artistic lamp Cage is the result of a collaboration between Multiforme and the Venetian designer Leo De Carlo. The son of antique dealers specialised in Venetian glass art, De Carlo re-elaborates the different craft traditions with which he came into contact, through his personal creative universe. A mix of high culture and pop culture that offers a playful, at times disturbing, vision of the contemporary world. The Murano glass lamp Cage is a product of this imaginative and poetic imagination.
How did you come up with this product idea in the first place?
From the idea of re-interpreting the aviary used in bourgeois houses at the end of the 19th century, but in a contemporary key, without imprisoned animals.
How was the name conceived and what does it mean?
Tautologically: Cage = Cage.
How did the idea evolve once it was concretised in glass?
I was very clear on how to realise it from the beginning, so the original idea basically remained unchanged.
Are you satisfied with the result? How far does it deviate from the theoretical project and how much of interest was born in the production process itself?
As there is no substantial difference between the initial idea and the finished product, I am very satisfied.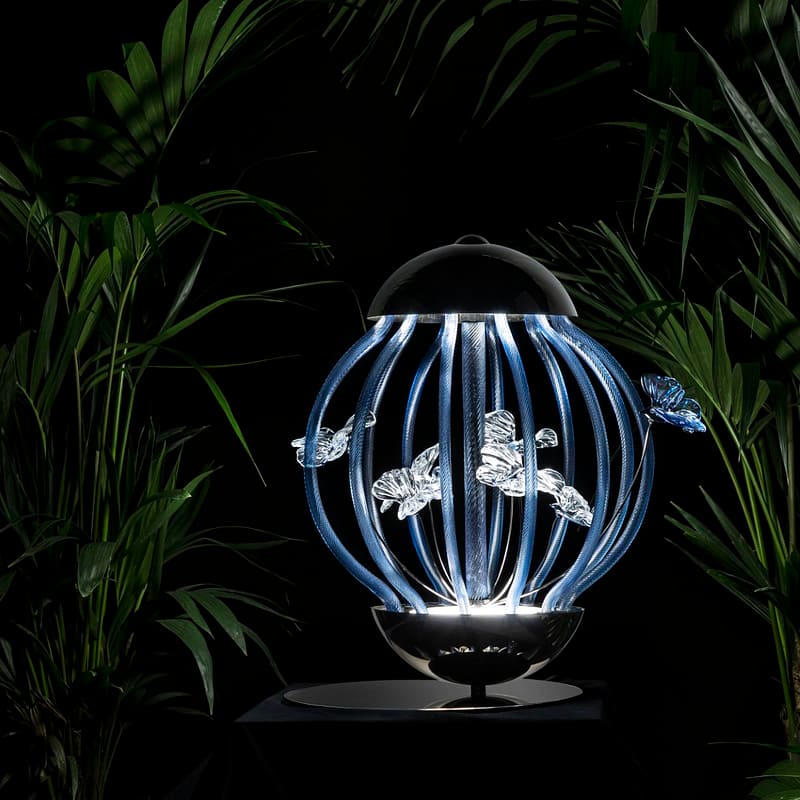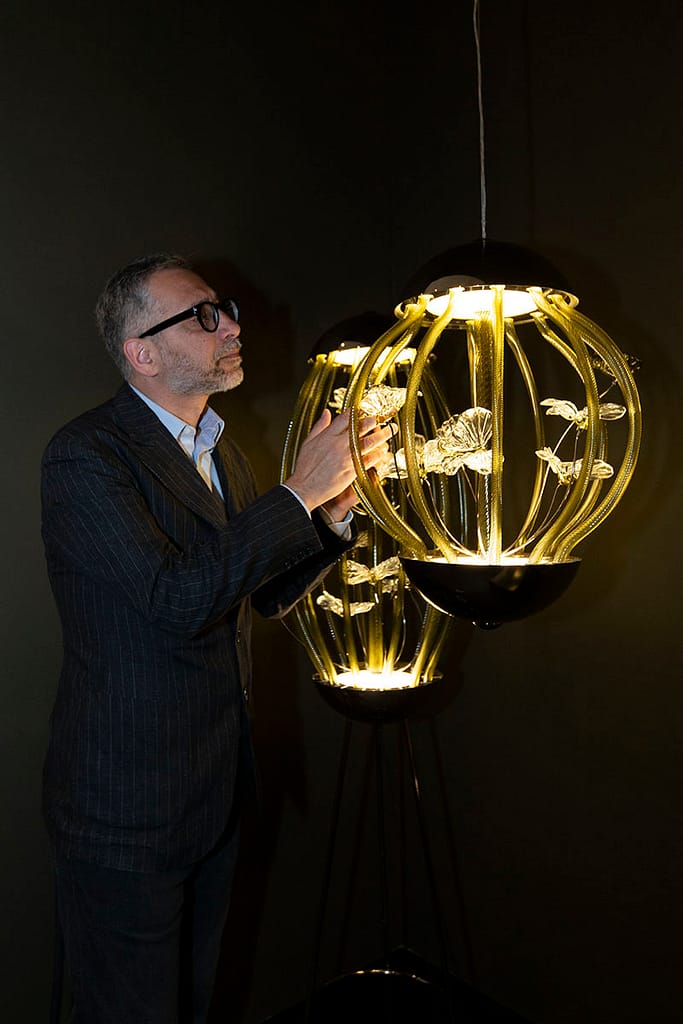 What is light for you and how do you like to handle it in your projects?
Light is the object that transforms a room into a beautiful environment.
If you had to think of a soundtrack to represent the work, which song would you choose? Or which artist?
The background noise of a forest.
What did you particularly like about the collaboration with Multiforme?
That they took over the technical part!
If you could place your product anywhere in the world, what would be the perfect place?
A forest.
Is there a project you haven't done yet that you dream of realising in the future?
Building a house around a lamp in a forest.
What are 3 characters from the 20th century that have influenced your view of the world?
My son, my father, my grandfather.
Bars that try to lock up insects, without realising that this is the right way to set them free.
A STRIKING AND POETIC DESIGNER LAMP
there is much more in the magazine dedicated to cage
A cage that does not imprison, the light refinement of blown glass butterflies, and a traditional workmanship typical of Murano's handicraft culture. Elegant glass bars cannot imprison butterflies bathed in light.
Cage is a project by Leo de Carlo, which took shape in the flames of our furnace and grew in our workshop. A handcrafted product with a contemporary design, which draws on techniques typical of the Murano tradition.
We specialise in custom and bespoke lighting solutions and have certifications for international projects.
Would you like more information on a product, a collection, or on shipping and assembly?
Fill out the form!